OK, I confess! I love this season! Our thoughts turn from the winter season, to Hockey and Basketball playoff games, the beginning of the Baseball season, and the beginning of a new pace. Admit it. The last thing on your mind is your septic system. That's where we come in. In our business, the spring is the time when we encourage preparation for the upcoming summer and fall seasons. Many customers wait until "peak" season to call us (like this past July for example!) for what we call "demand or emergency service."
Now "demand service" isn't quite as bad as it sounds; it refers to customers who call us needing septic services NOW. Demand service is great for my business, but it's hard on our technicians and sometimes our customers, too.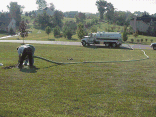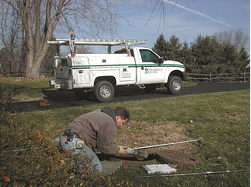 Were you one of those customers?
If so, thank you, and we hope you were served properly for what you feel was a fair price. The way I see it, I want to get the most for my money, and I treat my customers the same way.
"Our commitment to you is to use our knowledge to preserve the environment, conserve the valuable asset of your property, and to minimize or eliminate the costly expense of system failures."
We especially want to hear from you this season if there is something we did really well or something we need to do better. Our team works very hard to get the job done and I'm proud of them. So whether it's a complaint or praise, we welcome you to share it with us.
As the summer approaches, there is one very serious question that you should ask yourself each year. Do you know when your septic tank was pumped last? Please, if you can't answer this question "within the last 3 years," call now for a septic tank cleaning and pumping. Even if you have another company do it for you, please have it done! Every year we are busy replacing systems that have failed due to improper maintenance.
Call us to schedule a pumping or to explain our maintenance plans and click here to download a discount septic tank pumping coupon! Thank you for your patronage.
Please comment if you have had emergency service and your thoughts on how to avoid the situation.